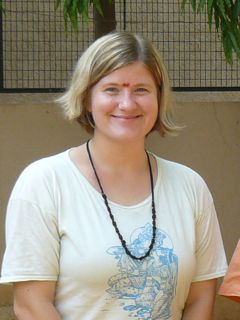 Mandi Grover Bio
Mandi began practicing yoga in 2001 during college and immediately enjoyed the exercise and stress relief yoga offered her. After that, she continued to enjoy taking yoga classes while she worked in the social services.
However, it wasn't until 2008, when she was given the incredible opportunity to spend a year and a half living in India that she discovered her true love and passion for yogic practice. This for her was a truly life changing experience.
She practiced and studied yoga and vedanta with Swami Krishnananda Saraswati at the Surya Jyothi Yoga Vedanta Centre in Bangalore, India. It was here that she taught her first yoga classes. She completed her yoga teacher's training and earned her certification at the Sivananda Yoga Vedanta Meenakshi Ashram in Madurai, India.
Mandi believes very strongly in these classical yoga teachings and strives to bring that knowledge and awareness to her classes. She teaches Sivananda Hatha yoga, mindful meditation, and yoga for healing. She incorporates chanting and guided relaxation into her classes. Mandi creates space for people of all abilities/disabilities to thrive. She is especially skilled at tuning into the individual needs of students and helping to nourish them.
Now her most important job is being the Mindful Mama (most of the time) of two beautiful souls. Loving and nurturing them and going through life with them has had a profound affect on her mindfulness practice!
Mandi offers yoga as a holistic approach focusing on the body, mind, and spirit. She believes very strongly that yoga is for everyone and works to create a space where all people can gain the contentment and peace of mind that comes through yogic practice. Om Shanti.